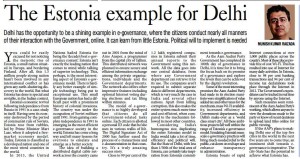 'The Pioneer' newspaper published my piece on how Estonia's e-governance model can be emulated to make Delhi paperless.
Estonia boasts of rapid Internet connections at over 1,000 public places across the country. Most of these places provide free of cost Wi-Fi. This has resulted into use of Internet for many daily activities. In Estonia, close to 98 per cent banking transactions and 94 per cent of income tax declarations took place through the Internet in 2012. The Government's expenditures can be tracked in real time by anyone using the Internet.
Such measures seem reminiscent of the Aam Aadmi Party's working, which allows anyone to view the donations made to the party or know of recent decisions to upload land titles online for public viewing.
To read the full article, please click the link:  http://www.dailypioneer.com/columnists/oped/the-estonia-example-for-delhi.html