Home » Column English, Corruption & Accountability, Democracy & Governance, Featured, Miscellaneous, Policy Matter, Society
Drop Pen and paper: Go Online!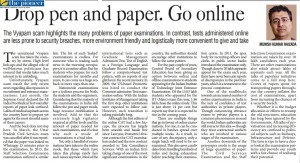 #Vyapam scam has unfortunately taken horrendous proportions but this is not the only scam related to recruitment and  entrance examinations.      
My article: 'DROP PEN AND PAPER. GO ONLINE'  highlighting the need for on-line examinations was published today, July 14,2015 in The Pioneer newspaper.
To read the full article please visit:  http://www.dailypioneer.com/columnists/oped/drop-pen-and-paper-go-online.html
Tags: #corruption, #examinations, #online, #Vyapam