Home » Politics
Chautala a product of bad system of politics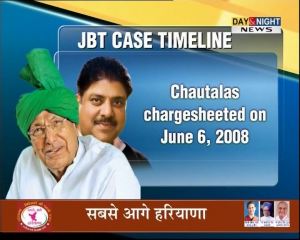 This is not a small news! Three days back (January 16) Haryana's former Chief Minister and regional satrap Om Praksah Chautala was found guilty by a CBI court in the JBT teachers recruitment scam. He has been sent to Tihat Jail and the sentencing is awaited. Nothing can be more disgraceful for him and his family and supporters than the fact that Mr Chautala is spending nights in Tihat Jail while awaiting his sentencing. It is a big blow to his INLD party. His one son Ajay Singh Chautala is also lodged in jail along with him. Here is the link to the news.
The court orders tell a damning story about the misdeeds that he did in this scam. I quote from a news published in The Times of India:
"Profuse evidence is available on record to show that it was Om Prakash Chautala, who was managing the whole affairs. First he took out the JBT vacancies out of the purview of Staff Selection Commission, then he increased the interview marks from 12.5% to 20%. However, he could not materialize his intentions due to prevailing political situation where he was running a coalition government. As soon as the Indian National Lok Dal got full majority of its own in the elections held in February-March 2000, the opportunity to execute the conspiracy was available," special CBI judge Vinod Kumar said. 
The investigation had revealed that two officers in the education department were transferred intentionally. "When R P Chander ( IAS Office), the then director of primary education, moved the proposal to declare the results on April 24, 2000, he was transferred two days later. Thereafter, Rajni Shekri Sibal (IAS) was brought in as director of primary education. She was asked to change the award lists by Sher Singh Badshami, political advisor to chief minister inpresence of Vidya Dhar (officer on special duty to the CM) as well as in the presence of Ajay Singh Chautala (Chautala's son) and they were all acting under the directions and wishes of Om Prakash Chautala. When Sibal recommended compilation of the result vide her note sheet dated June 20, 2000, she was also transferred on July 11, 2000 and accused Sanjiv Kumar was appointed in her place," a CBI officer said.
Chautala – son of much revered late Tau Devi Lal- has always been looked upon as a notorious man. His party and actions by his party workers roughly equate to politics of confrontation, hooliganism and casteism. The Hindi expression of 'lathmaar rajneeti' aptly describes the methods his party has resorted to in the past. In the words of noted educationist and anti- Khap panchayat activist Mr Daulat Ram Chaudhry: "Chautalas are more crude, arrogant and aggressive once they are in power." And many would agree with these sentiments. Chautalas -when in power- unabashedly sold govt jobs (rather than selecting by merit), showered favoritism and nepotism in recruitments and appointments.
The Problem Lies with the System:
Chautala is a manifestation of our system of politics and governance. The media and public gets a feeling of gratification when such criminal-minded politicians are caught. These become headlines. But unless we reform the system, many more Rajas, Kalmadis, Kandas, Chautalas, Sibu Sorens will keep popping up and would be replaced by their other politicians and babus with similar tendencies. The real succor will come when rather than chasing these individuals, we get a system in place that deters such scams and prevents corruption. After all, prevention is better than cure! Some of the current practices that lead to such outcome are:
1. Lack of transparency and accountability in the system. This encourages the politicians and bureaucrats to subvert the system.
2. Undue political interference in police and investigative system (eg, CB.
3. Slow and lethargic judiciary.
3. Lack of citizen oversight. It is ironic that India's 250 million middle class is still indifferent to politics.
What is the panacea?
Unfortunatley, there are no short cuts. The system needs an over-haul. Unless we witness radical reforms in the fields of electoral practices (eg. negative voting), police (less political interference), judiciary (swifter justice) and civil services (performance-based promotions), things are unlikely to change. Focal reforms here and there will not be very effective. Also, the concept of de-centralization in governance as well as political practices should be promoted. Above all, citizens need to keep an oversight on their elected representatives. For citizens, this saying comes handy:  "Freedom is never free and liberty is never guaranteed"! The liberty from corrupt and incompetent babus and politicians will come more readily if we keep a tab on them!