Home » Corruption & Accountability, Featured, Politics
Anna: Please do not miss a chance
Well known social and political crusader Mr. Anna Hazare has re-launched his campaign against corruption today on January 30, 2013. The campaign named Gantantra Abhiyaan has been launched form the famous Gandhi  maidan in Patna. Bihar is the birrthplace of Lok Nayak Jai Prakash Narayan.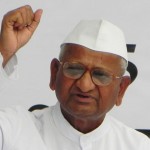 As the readers might re-collect, Anna Hazare had started the campaign under the title "India Aganst Corruption" (IAC) with Arvind Kejriwal in 2010. The whole movement was focused on a one-point agenda: to secure the passage of Janlokpal Bill. The movement caught up to the fancy of the whole nation and singularly brought corruption into focus. It was no less than a revolution, it seemed as if each and every Indian was rallying behind Team Anna. But there was a miniscule class of Indians who was not impressed. Miniscule but powerful! Yes, I am referring to our Parliamentarians. These "brown sahebs" did everything to diffuse and dilute the situation. Thus, even today the Janlokpal Bill is waiting to see the light of the day in Parliament.
However, the IAC movement -frustrated by the unwilingness of the Parliamentarians to focus on the the reforms- got split, with Arvind Kejriwal esposing a direct political route. Even with the huge surge in the momentum of IAC movement, the whole phenomenon would be best labelled as fence-sitting! To grab the bull by horn, you have to get into the ring and that was what Kejriwal advocated: He and some of the core members walked away to form a political party now called Aam AAdmi Party.
Thus, Anna was left with IAC in September 2012. After a few weeks of debating the issues, Anna too relinquished the bannerof IAC (now IAC is a separate movement, headed by one gentleman Sarbajit Roy and his team) and decided to re-launch his agitation under his own NGO's name.
Loksabha elections are hardly 14 months away (will take place sometime in April of 2014). Mr Anna Hazare might have experiences that such huge movements launched by civilc society organizations can serve only ONE purpose: they can create awareness and educate. But anti-corruption movements can not CHANGE the law (unless, we have a feature called INITIATIVE, where a bill can be initiated by the public and legislation has to take it up and pass it into a law, depending upon the provisons specified). Howver, Indian public does not have this privilege (by the way, Aam Aadmi Party supports this reform).
Thus, what the re-ignited movemnet of Shri Anna Hazare can do at the best:  Keep educating the public about enormous corruption that exists in our system. Nothing more! Mercifully, even an illitrate person understands that corruption is a deep-rooted virus in our system.
Whatever, Anna's reservation might be about the direct politcial plunge. Here is a golden chance for Anna and for the nation. Since he started his movement from Patna, taking inspiration for LNJP, he should go for a direct political plunge. He should oversee the formation of a politcal front, of which AAP and like minded parties -whose key focus is on reforming the system- get together and defeat the suckers!
It will be a tactical move that has the potential to liberate India from fedudal political parties and usher a new era of politics. The new conglomerate can then go for reforms that would give our system   a new lease of life.
Afterall,  it is the poor policies that promotes corruption and inefficieny and malgovernacne.
Anna ji, the nation looks upto you for this transformational role! Please consider!