Home » Column English, Corruption & Accountability, Democracy & Governance, Miscellaneous, Policy Matter, Politics
AAP's nabbing 100 days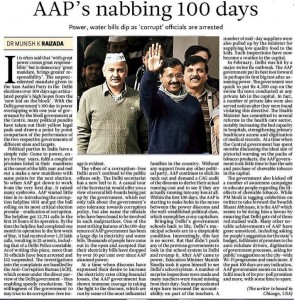 The Aam Aadmi Party-led Delhi government completed 100 days in office on May 24, 2015.
Political parties in India have a simple rule: Come to power, enjoy for four years, fulfil a couple of promises listed in their manifesto at the onset of the fifth year and reel out a make a new manifesto with same points for the next election. So when AAP got down to work from the very first day, it raised many eyebrows.
My article published on May 24, 2015 in Daily Post on Aam Aadmi Party's achievements in its 100 days of rule in Delhi.
The Link: http://epaper.dailypostindia.com/Details.aspx?id=131793&boxid=59160&uid&dat=2015-05-25
Tags: #aamaadmiparty, #AAP, #ArvindKejriwal, #DelhiGovt