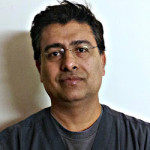 Name: Dr. Munish Kumar Raizada
Qualification: M.B.B.S., D.C.H., D.A.B.P. (Diplomate of American Board of Pediatrics)
MBBS: MGIMS, Sewagram, Wardha, India
Medical Residency in Pediatrics: Long Island Jewish (LIJ) Hospital, New York, USA.
Fellowship in Neonatology: John H Stroger Hospital of Cook County, Chicago, IL, USA
Practice location: Chicago
Additional engagements:
I am editor- in -chief of USA-basednonprofitt media organization NewsGram. Website: www.NewsGram.com
I am involved with Aam Aadmi Party as a volunteer since its inception (2012)
I am involved with Aam Aadmi Party as a volunteer since its inception (2012) and  moved to India in July 2013 to devote my full time to the party work. I worked at volunteer engagement cell of the party from its head quarter in Kaushambi, Gaziabad and Connaught Place in Delhi and also assisted in ground campaigning for Delhi assembly elections.  In addition, I worked at coordinating NRI efforts of the party and was a member of the organizing committee of US-level Convention of Aam Aadmi Party held in Chicago in May, 2013.
I have also served AAP as District Incharge in New Delhi Loksabha area (2014) and pro bono advisor (in 2015) to Health Minister, Govt of Delhi.
In Nov 2015, the party suspended me when I openly criticized AAP for supporting Laloo Prasad Yadav during Bihar assembly elections of 2015.
Family: Married. My wife Dr. Bharti Raizada is a practicing Anesthesiologist in Chicago and we have 2 boys- Subramaniyam (17 ) and Om  (11 ).
———————————————————————————————-
Thanks for taking time to read this brief introduction about me!
My name is Munish Kumar Raizada. Several people know me by simply "Munish Kumar".
Chicago-based. Medical Doctor by profession.
Socio-political activist. I am the founder member of a non-profit Mission India Foundation that serves the rural areas in India in the field of healthcare and education. Mission India Foundation (www.mifusa.org) has successfully worked on childhood vaccine project in Narnaul, Haryana in India in the year 2010-12.
Member of the newly (in November 2012) launched political party  justifiably named "Aam Aadmi Party".
I was born and brought up in India, went to Medical College at MGIMS, Sewagram, India. I obtained my medical degree (M.B.B.S.) from this Institute. Thereafter, I did my residency training in Pediatrics and Fellowship in Neonatology in USA. That paved the way for Board Certification which I obtained without a fuss! Now this Board Certification is not life-long, you got to write exams every 8- 10 years to maintain the certification. So much so for the sake of being an up-to-date Doctor!!
My area of practice is Neonatology ( a specialty that deals with the diseases of new born babies).
I am passionate about socio-political reforms in India. My main focus is on political reforms that lead to a stronger democracy, better governance and more transparency. The India Against Corruption (IAC) movement)  heralded by Anna Hazare and Arvind Kejriwal delivered one result: It sensitized the whole nation that our Indian governments, politicians and babus are brazenly corrupt. It brought corruption to a central focus.
And obviously to fight corruption and dysfunctional governance, we need educated , well-meaning people to ACTUALLY join the politics. Secondly, we need the people to act as watchdogs (in other words, Citizen Oversight). These 2 exercises require that citizens STOP hating politics and pay attention to it.
More such reflections in my posts. Stay tuned!
Areas of Interest: Pediatrics, Neonatology, health policy, Politics and civic engagement.
Contact me: Pedia333 [at] Gmail.com
Cell and Whatsapp: +1 217 720 9331 (USA) and +91 987 370 3054 (India)